The Long Day Care has been in operation for five weeks, but it seems to have flown by! We have been so busy and have enjoyed....
Having the PTP children come on Wednesday and Thursday mornings
Making friends
Cutting up morning tea together
Having morning tea together
Making orange juice.
Taking a nap after a very busy morning!
Feeding and patting the chickens
Peeling and slicing apples
Making pasta
Talking to the big kids

Cutting, gluing and shredding

Hopping, jumping and skipping
Painting, drawing, matching
Exploring with all of our senses
Washing, mopping, sweeping
Window washing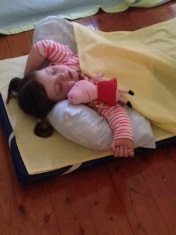 And so much more!
Jenny, Ainsley and Kati