The students have been learning a variety of text types. These include; how to research and write a report or project on a topic of interest, poems, narrative story writing, persuasive writing and procedures. It has been lovely to see the enthusiasm and team work involved in these writing tasks. In particular, we have had students who have been very excited to write a procedure for the science experience cards and then implementing these experiments in front of the class.
One of our students chose to write a procedure on how to clean and tidy your tray.
Procedure
Title: How to clean your tray
Things You Need:
- Your tray
- Your workbooks
What To Do:
Step 1: Take out your tray quietly and put it on desk ready to clean so it can be clean and tidy at the end of the morning work cycle.
Step 2: Take out all your books & your finished/unfinished folder. Organise all the pieces of paper. Any work you don't need at school either throw them in the bin or take them home.
Step 3: Check your books and see if they are finished. If they are you can give them to your teacher so there is more room for your new books.
Step 4: Now you are done you can now put your workbooks back in your tray & put your tray away. The next time you go to your tray it will ne nice & tidy.
Now your tray is nice & tidy.
You have now know how to clean your tray.
By Sofia
The students are putting a lot of thought into their show and tell each week. Last week, Olivia shared her saxophone which she is learning to play and Alex brought along her ipad to share her soccer experience with her peers. It is beautiful to see our class members share what they are passionate about. During this time the class is learning to show respect towards their peers by listening and paying attention. They are also learning to think about relevant questions they can ask the student presenting their show and tell.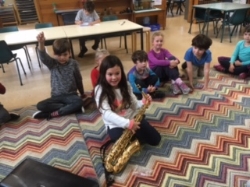 A big thank you to our volunteers for listening to our students read this term. These students are progressing through the classroom reader books and some are practicing their sight words during this time. Thank you Sandra, Francesca's grandmother and Sharlene, Duntae's mum. The older students continue to participate in small group literacy circles once a week. The older students in our class have been enjoying reading books to the class during group times.
Stage 2
As apart of "National Sorry Day" the school invited a guest speaker and an elder to speak to the children about what reconciliation meant. She shared artwork pieces with the students. The students were then involved in creating their own handprint to display in their classes. They also enjoyed colouring in the indigenous colouring templates that were provided.