This term Stage 2 has been very industrious. The Primary Choir has reunited this term with the addition of new-interested members. Their commitment is evident with practices taking place during Thursday lunchtimes. They are enthusiastically rehearsing an item in preparation for the End of Year Concert.
The MS Read-a-thon is in full swing. Children have been encouraged to read for a worthy cause and share what they are reading this month with the rest of the class. The children have also been creating posters to display around the school to bolster excitement. (There is still time to sign-up and get involved!) EMS teachers are also showing their own passion and love for reading by sharing the books they too have been reading… and also forming our own teachers' book club!
For art, the children have been doing 'big work' by collectively working on an ocean seascape. Each week (starting last term) they have been creating various sea creatures to include in the artwork. The children have been very proud of their accomplishments.  
On Friday the 28th of July we celebrated Friendship Day. The children were involved in a discussion about what qualities make a good friend and the importance of how to create positive friendships. They loved making their own friendship flowers and acrostic poems. We have created a friendship garden wall in our reading room.
The children continue to participate in helping our Kindness Tree grow in each class. If a child observes another child do a "kind deed" for someone then they write it down on a love heart. We then share these lovely, kind deeds at group time and add them to our tree.
In Italian the children have been learning a variety of words and songs. They loved looking at and discussing some of the famous attractions in Italy. They worked together in small groups to complete the puzzles Simona provided.
The children in Stage 2T continue to bring in some wonderful and very interesting show and tell. This experience helps the child to develop their oral communication skills and build their confidence to speak in front of the class.
The children continue to be enthusiastic about science. They have been researching a variety of science experiments and utilising the resources on the science shelf. The children are working on how to write a procedure and to record their observations in their science book.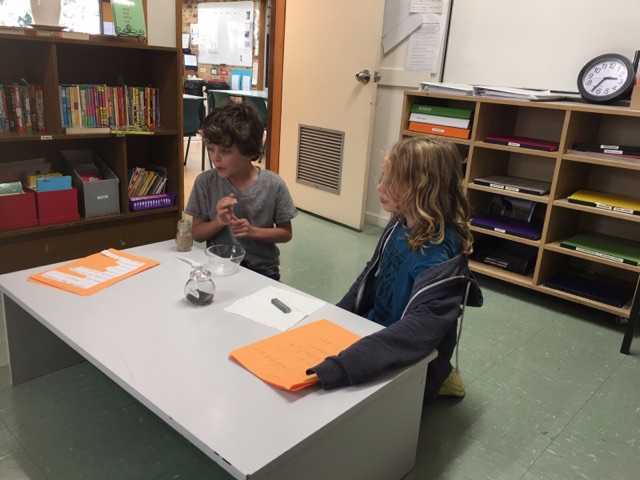 In the Stage 2 classrooms the children are working at their own individual levels throughout all the Montessori curriculum areas. In the pictures below the children are engaged in a variety of math work. Students are working on 4 digit static addition sums using the stamp game material, 100 board work and practicing multiplication using 1 digit and 2 digit multipliers with the checkerboard material.
In the cultural area of the classroom the children have been working on completing the large continent puzzle maps. This experience involves a lot of concentration and focus. Once the child has completed the puzzle the next step is for them to colour in the countries and label/name them. Our goal is for the child to have completed all the continent puzzle maps by the end of Stage 2, so they can have their very own keepsake atlas.
In the area of Language, students are working on and developing their writing skills by learning a variety of Informative and Imaginative text. This includes how to research and write a report using their own language, how to write a recount using paragraphs, how to write a procedure in chronological order, using numbers to specify the sequence in the procedure and writing a narrative story to ensure they have a beginning, middle and end. The children are learning how to carefully structure these writing tasks and how to self correct their work. The older students are learning how to help/correct another student's work for them.

The students continue to develop their reading and comprehension skills in the literacy circles using reading comprehension strategies:
Making Connections
Inferring
Predicting
Questioning
Monitoring
Visualising
Summarising
A big Thank You, to Brooke Terry and Debbie Vazzoler for helping stage 2 cover our new reader books. We are still looking for more parent volunteers to cover the remaining books. Please inform Tracey or Erica if you are available to help with this. Thank you, Stage 2T and 2E
In Stage 3 we started off our term as always with our Term Goals. We use the SMART Goals system to ensure that goals are specific, measurable, achievable, relevant and timely, and assess our progress on our last term's goals. This is an important skill as it teaches children to break goals down into manageable chunks, and to reflect on their achievements and challenges.
This term we are looking at ancient civilisations. We have had the Third Great Lesson, The Coming of Humans, and have explored the timeline of man. Along with the traditional Montessori charts, we are watching the BBC documentary Walking with Cavemen, which helps illustrate the stages we can see on the timeline. Students are working on individual projects looking at different ancient civilisations that came after these early humans and are enjoying doing their research and discovering about the rise and fall of empires.
In language, we have been exploring different text types such as fiction and non-fiction texts, poems, documentaries and podcasts. Each week we have been listening to a podcast that poses a different ethical dilemma, which students write an initial response to and we then discuss as a class. This has led to a lot of great discussion! We have also been engaging in 30 minute writing sessions, in which students are encouraged to write in any text type and on any topic they choose in order to develop fluency in writing and encourage risk taking rather than over-editing and fear of making mistakes.
This term we have introduced a focus 'Virtue of the Week', looking at different virtues we may possess or can work on developing further. So far we have had kindness, tolerance, gentleness and honesty. We have been using the parts of speech to parse a passage about each week's virtue, incorporating aspects of both language and social and emotional learning.
This term Stage 3 have voted to continue with our class business, Veggietastic. We have developed our planning and preparation processes as we learn, with skills in giving and receiving feedback, counting money and orders, budgeting for the week ahead and calculating profit, streamlining distribution and planning future improvements. Practical life skills such as cutting, peeling, and washing come into play, as well as critical thinking and problem solving when unexpected situations arise. Stage 3 students are becoming more and more independent with these skills and have a real ownership of the business.