Stage 2 News
This term in week 5, Stage 2 participated in National Science Week. We began the week by giving the First Great Story, 'The Creation of the Universe' (also known as the BIG BANG). This story was presented to the students to give them a sense of "awe" and wonder about how the universe begun. The students were then involved in several science experiments and learnt about a variety of concepts. As an extension from this lesson and experiments the children enjoyed watching a documentary in half an hour segments.

https://www.youtube.com/watch?v=4eKIjkk0NVY

In week 7, Stage 2 enjoyed sharing their classroom with their dads and visitors during the Father's Day morning tea on Friday the 1st of September. The children served their guests morning tea and then showed how they plan out their day to complete work throughout the Montessori curriculum. Thank you to the dads and visitors for coming along to this special experience.

On August 31st, we celebrated the birthday of Maria Montessori. Dr. Montessori, the founder of the Montessori education system, was a key figure in the intellectual history of child development and education theory. In recognition of the achievements of Dr. Montessori, 2E and 2T did activities that integrated her into our classroom lessons. The children discussed Maria's timeline and learnt more about who she was and how she created the Montessori method. The children created acrostic poems and coloured pictures of Maria Montessori. Each stage enjoyed helping bake cupcakes and decorating them. At the end of the day the school congregated together as a whole school for an afternoon ceremony. We listened to a biography of Dr Montessori's life and enjoyed cake.

In week 8, the students participated in the whole school 'Fun Run' which involved a variety of physical skills and activities. It was a really fun day that everyone enjoyed!
This term the children have been busy practicing their dance moves for the end of year performance and working collaboratively together.
We continue to discuss our classroom rules and guidelines within each class. At the end of each day we have a class meeting or group discussion about positive things we see in our class and any areas we need to work on.
We have been looking at our "THINK Before You Speak" poster and encouraging the children to look at this throughout their day. T= Is it True, H= Is it Helpful, I= Is it Inspiring, N= Is it Necessary and K= Is it Kind. Each day we continue to encourage the students to be independent workers and thinkers in their classroom environment.
Over the course of Book Week, we performed a number of activities to promote a love for reading. On each day of the week a different member of staff read a book to the whole school over the loud speaker. We had a dress up day where students were able to attend school dressed as their favourite characters from books they've read. It was wonderful to see a diverse range of interesting costumes, showcasing the individual interests of each student. Students also shared books from their personal collections with each other, allowing them to promote their own interests and benefit from exposure to new literature. Books are a wonderful medium for lively communication– they provide an impetus for debate while also helping us to gain a deeper understanding of the world. An important skill for uncovering the lessons and revealing the true value of any book is the art of critical evaluation. During book week students were given opportunities to write book reports on the books they had been reading.
Children in Stage 2 have been working on projects to build their research skills. For the older students, this has been independent work, while for younger students this has been done with the support of the teaching staff in order to gently expose them to doing independent research projects and ready them for this type of work throughout their scholastic lives. Included is a picture demonstrating the excellent output some of our students have been able to achieve.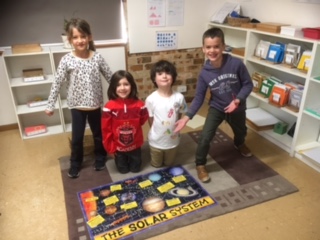 Stage 3 News
In week 9, Stage 3 went on an Internal Camp based at school, with daytrips to the surrounding area. The aim of camp was to build a sense of community in Stage 3, to make and consolidate friendships, to build resilience and independence, and to have fun! By having a school-based camp we were able to overcome some fears of being away from home for this year's young cohort, and showcase what we can gain from our local area.

Our first day was a hike up Mount Kiera, with the goal of overcoming challenges and seeing what our local environment has to offer. It was a hard day of walking, and the students brought to it differing levels of experience and fitness. We ate our morning tea among the fauna and flora that makes the Illawarra a beautiful place to live. Knowing we had a lot of ground to cover we continued on the task of reaching the summit for lunch. For some it was quite difficult but everyone was very supportive and we persevered. Halfway into the hike, we connected with the Ring Track that would take us around the side of the mountain and up to Mount Keira lookout. Reaching the lookout we had a view that as one student described as "like a painting", where we were happy to sit and absorb the views of our school and the amazing distance we had travelled. Michelle was our hero and met us at the top with icy refreshments!
When we finally made it back to school we made tacos for dinner and it was great to see the older students take charge and delegate tasks to their peers.

The second day was focused around service to the community. Up bright and early at 6am, we made batches of biscuits and sandwiches for donation to the Wesley Community Centre in Wollongong, which hosts a daily lunch for those in need. Despite the heat, our 60 sandwiches and biscuits made it there in time and were gratefully received, with the staff amazed that primary students had done such a wonderful job! After our own lunch, we headed to Puckey's Estate, where we worked with Bushcare to plant out a site with native trees, shrubs and grasses to revegetate the coastline. It was a hot day and planting was hard work, but it was satisfying to see our plants in the ground, and Greg was great at answering our questions about local ecosystems. Afterwards we dipped our feet in the ocean to cool down, and headed back to school for a giant waterslide and some fun. Watermelon eating races and 'food challenge relays' were exciting for everyone and we had a big BBQ dinner, followed by a game of Sardines around the school grounds.

Our final day was one for fun and relaxation. We made pancakes for breakfast and then packed up our camping areas before heading to Flip Out trampoline park for the morning. Again it was great to see everyone having fun and challenging themselves by trying new tricks and encouraging others (including the teachers!) to push themselves too. We walked back to school for a final lunch and a movie to relax before it was time to go home.

Camp was a great success, with not much sleep but a lot of fun had by all. There was a lot of growth, with students overcoming challenges of physical endurance, tiredness, social interactions and heat. It was great to hear their reflections on being able to do things they didn't think they could, and to see new friendships forming and concern and support for others flourishing.
Well done, Stage 3!